Why you should apply for your studies via Compounder&reg
We have experienced it ourselves: study application is indeed rather time-comsuming and annoying. This is what we want to change! Therefore, you receive our following services free of charge:
Completing your study application with only 5 minutes
Create your applicant profile once and apply directly to all universities.
Easy and fast application
Compare study programmes and universities and find your dream studies.
All information regarding studies at a glance
Select study programmes and click on 'Apply now'—that's it!
100% free of charge
Compounder® is and remains free of charge. There are no hidden costs!
Personal contact
Do you have any questions? We are here for you!
50€ voucher
You will receive a 50€ voucher when applying via our platform!
Which study destination suits you best?
This is what happy students say about us
'Thanks to Compounder, I had all application-relevant information ready at a glance. I only needed to upload my application data once and was immediately able to apply to several universities.'
– Priyanka Nayka from Bangalore, applied with Compounder® and is now studying in Berlin
Who are we?
Hey! We are Evelyn, Mino, and Paula and as former students of a private university ourselves, we do know how time-consuming the search for the perfect study programme and the studying application can be. This is exactly what we want to change with Compounder®.
With Compounder® you can therefore easily apply for universities in all over Germany free of charge. Create your profile, upload your documents, find study programmes, and click on 'Apply now'. This is how easy study application with Compounder® is!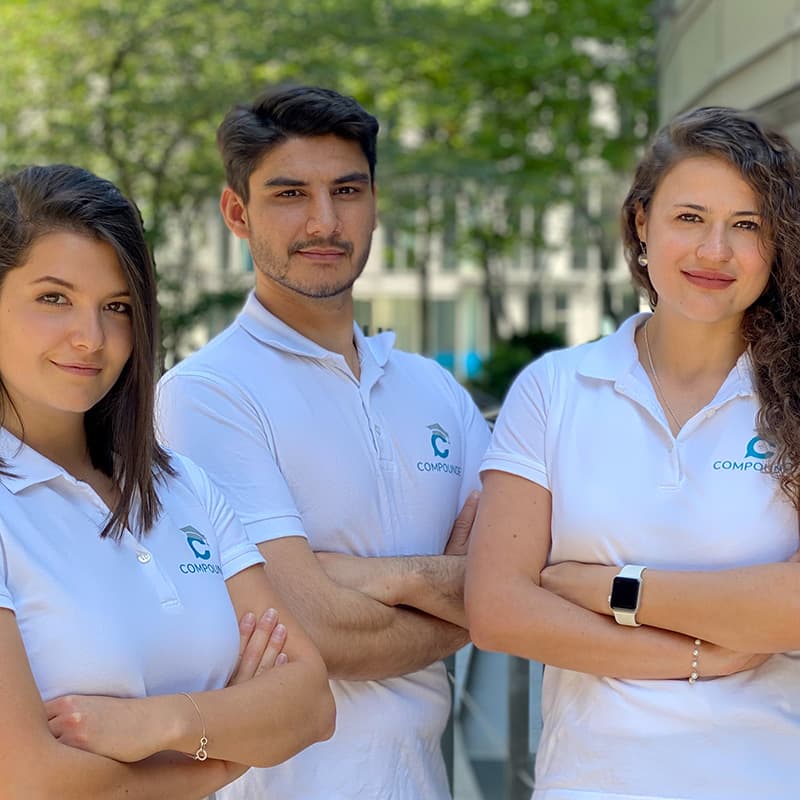 Hey! I am Evelyn and I have studied at a private university myself. Therefore, I do exactly know what to look out for and can surely clearify all of your questions! :-)
We helped over 50 students to get admission to their desired university in Germany. Let us help you to make your dream of studying in Germany come true, too!
Still any doubts or questions? Contact Evelyn via email or chat!
Looking for something else?
Are you looking for tuition-free, public universities in Germany that offer English-taught programmes?
Apply now quickly and easily for internationally recognised, private universities from all over Germany.
1) create your applicant profile
Register for free and create your applicant profile by providing all relevant information, easily uploading the required application documents, and check whether you are eligible to study in Germany.
Register
2) find your dream study programme
Browse through our range of study programmes, compare programmes and universities that are of interest to you, and save them as your favourites on your personal profile.
Study programmes
3) apply via Compounder®
Apply with your profile quickly and easily to as many universities as you like—without having to compile your application each time again!
Apply now
7-step guide to studying in Germany
Good preparation is key when it comes to starting your studies in Germany. From finding the right study programme and university to clarifying formalities upon your arrival: our guide gives you an overview of what you need to consider when preparing your study trip.